Addressograph Model 2000 imprinter .24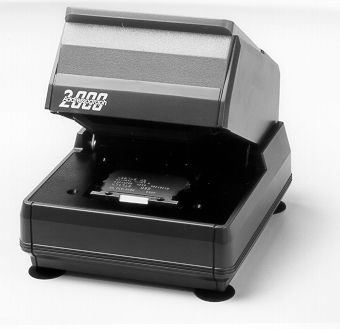 Designed specifically for the active healthcare environments, the 2000 fits neatly into any workstation or desktop area. An outer MAGNUM *9555 plastic casing, the same tough fire-retardant plastic used for desk phones, makes operating extra quiet for noise conscious facilities while the rugged steel chassis ensures durability and smooth performance.
The Addressograph® 2000 Series will give you years of superior, uninterrupted performance along with thousands of crisp impressions. It will easily pay for itself many times over in legibility, speed, accuracy and increased efficiency.
FLEXIBLE – TO MEET INDIVIDUAL NEEDS
Whether it's patient identification, accounting, or routing and delivery
information, you can depend on the 2000 to precisely reproduce the information you need – in less than one second.
The 2000 Series of imprinters is available in four different models and any configuration to exactly meet your specialized imprinting applications. Contact us for options.
SINGLE-SOURCE SUPPLIER
Addressograph® from Advanced Custom Systems can supply you with embossers, imprinters, blank PVC plastic cards, even depot or on-site maintenance service to fully complement your plastic card system and program.
Contact us for ink rollers, repairs or replacement imprinters. info@greatpages.ca